For more than 30 years, Bovée & Thill have consistently led the way with every major revolution in busines communication, starting with the shift from print to digital, followed by the growth of social media, the rise of mobile communication, and now the emergency of artificial inteligence and intelligent technologies.
Much of this coverage has necessarily focused on technology, but Bovée & Thill take the wide view of how employer expectations and contemporary practices continue to evolve. This embraces developments ranging from ethics and etiquette to the shift toward a more caual tone in workplace writing.
Here are numerous examples of how Bovée & Thill prepare your students for the expectations of of the contemporary workplace.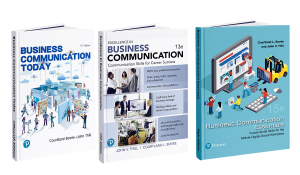 You'll also discover that Bovée and Thill teach students effectively by using a time-tested approach with a practical skills focus. And, you'll learn about an unmatched array of instructional support resources.
Read more